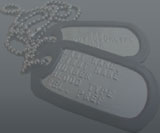 CLICK BELOW TO:
"Dog Tags Online will provide you with the highest quality custom etched dog tag bottle openers at the lowest prices, friendly personal service, and the easiest way to order your own promotional photo engraved bottle openers on the Internet."


Dog Tag Bottle Openers
Minimum Order 500 Bottle Openers
Dog tag with side opener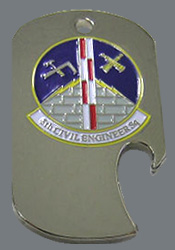 We offer unique and creative promotional products for both large and small businesses around the world.

Useful items provide the best results as they have a higher perceived value and many repeat exposures since people will keep them for a longer time.

The more practical corporate gifts, are also the most memorable. So, put your logo on these unusual dog tag bottle openers and keep your imprinted advertising message in front of your customers with every use.

Great for promotions, fundraiser's, events, teams and even your high school, college or military reunion!


Side slot opener with two color logo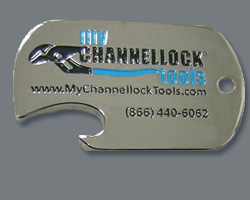 Pricing for photo etched design with or without color fill on a 3mm thick nickel plated steel side slot bottle opener.



Side Slot Bottle Opener (single color logo)
500
1,000
2,500
5,000
10,000+
$0.925
$0.815
$0.715
$0.695
$Call$
Set up fee $120 per side includes 1 color fill


Size: 50mm x 30mm x 3mm
Material: nickel plated steel


Mid slot bottle opener in single color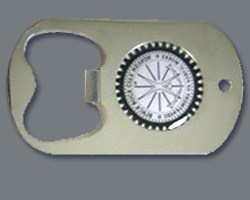 Prices for 2mm thick aluminum and steel middle slot bottle opener with photo etched design.



Middle Slot Bottle Opener (one color logo)
500
1,000
2,500
5,000
10,000+
$1.245
$1.095
$1.045
$0.995
$Call$
Set up fee $120 includes front side logo


Size: 55mm x 31mm x 2mm
Material: aluminum and steel combo


Single color on loop opener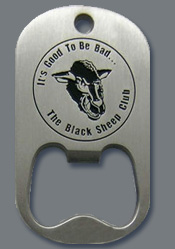 Keep your customers coming back! Effective corporate giveaways, help people remember you, and give you additional advertising exposure.

We offer corporate logo gifts with several options for branding; such as pad printing, offset printing, embossing, or photo etching.

The process of buying promotional products does not have to be difficult. See "Quick Quote" for additional options and charges.