Home
/ Dog Tag Key Tags
Military Dog Tag Key Tags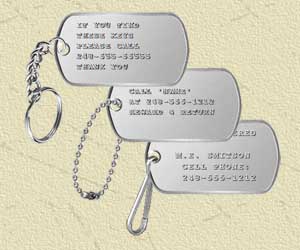 Your own personalized key tags come complete with your choice of connecting hardware and are made from real military dog tags. Key tags are great for identifying and protecting your keys and key fobs and will help return your lost key fobs, which are expensive to replace.

Dog tag key tags are deeply emboss stamped with room to include multiple phone numbers and email addresses and are made army military tough to last. These key tags for keys have many purposes including key label tags and these dog tags key tags also make a great personalized gift.

These dog tag key tags come in your choice of a heavy duty chain keyring, a lighter duty chain keychain, and a multipurpose key tag key clip.

Now is the time to organize and identify all those loose keys in your drawer.
Heavy Duty Keyring
Keychain Tags
(1) Stainless steel dog tag with FREE STAMPING (up to 5 lines of 15 characters)

(1) zinc chrome 1 1/4"(30 mm) key ring with heavy duty chain and small ring combo.
Keychain
Key Tags
(1) Stainless military dog tag with FREE STAMPING (up to 5 lines of 15 characters)

(1) 4" stainless steel beaded chain.


The following payment methods are all available at our shopping cart CHECKOUT:

You can pay by

using our secure server.
You can pay by MAIL or FAX at CHECKOUT.
We also accept

at CHECKOUT.
Free Shipping on Total Orders Over $50.00 (United States only)
Satisfaction Guaranteed or Your Money Back!
Home | Site Map | Contact Us | Privacy Policy | Comments | Frequently Asked Questions | We get Letters |
View Shopping Cart | About Us | Terms and Conditions
Copyright© 2013*REV. 3/2017
Tag'em LLC All Rights Reserved