Home
/ Key Tags
/ Key Clip Key Tags
Key Clip Key Tags
Order Form
Only $2.99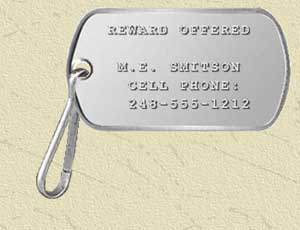 Number of These Key Clip Key Tag Sets:
Each Key Clip Key Tag set consists of the following lightweight components:
(1) military army dog tag with FREE embossing (up to 5 lines of 15 characters)

(1) Zinc chrome steel key clip.
Instructions for Preparing Key Clip Key Tags
15 Characters per line and spaces count as a character.



Special text characters allowed:


& ' . - , # * : / @ + $ % ?

DO NOT put your home address, home phone number or other personal information on your dog tag keyring key tags as this could be traced back to your house. It is much safer to use your work phone number, cell phone number or e-mail address on your key ring chain tags as these cannot be traced back to your home.
Satisfaction Guaranteed or Your Money Back!
Home | Site Map | Contact Us | Privacy Policy | Comments | Frequently Asked Questions | We get Letters |
View Shopping Cart | About Us | Terms and Conditions
Copyright© 2003*REV. 3/2013
Tag'em LLC All Rights Reserved