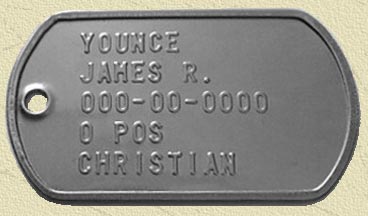 Army Dog Tags
Only $6.99
Use Our Army Dogtag Generator to Make Real Army ID Dog Tags!
Use the most advanced Army Dog Tag Generator on the Internet to design and make your own army tags with the correct US Army dog tags format. These line by line instructions will guide you to make your dogtags with the exact text format and spacing used by US Army soldiers worldwide.
Regulations state that army id dog tags will be worn by each member of the Army of the United States at all times while in the field, when engaged in field training, when traveling in aircraft, or when outside the Continental United States, except in Alaska and Hawaii. Regulations also state that army tags will be 2" long, 1 1/8" wide, and .016" thick with rolled edges for strength and that all metal ID tag hardware be made of T304 stainless steel.
When you think of the generations of men and women in uniform who have fought for our protection you can't help but evoke the patriotic feelings of strength, loyalty, duty, honor, and integrity. These real ID tags will bring out that weekend warrior in your heart.
All of our dogtags, dogtag necklace chains, and dogtag silencers meet all current Military Specifications, also commonly referred to as 'MilSpec'.
Black matte finish dogtag silencers with the text being left justified are the standard format on all army id dog tags.


Order U.S. Military DogTags With The Correct Army, Air Force, Navy Seals, and Marines Format.
Your Choice of any 6 Piece Military ID Tag Set below for Only
$6.99