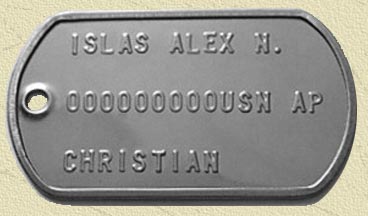 Navy Dog Tags and Navy Seal ID Tags
What Do Navy Seal Dog Tags Look Like? Look Here!


The black dogtag silencer is standard on all military ID tags although sea blue dogtag silencers are always an option.


The official US Navy Seal ID tag now uses the same M-1967 type military dog tag as the other branches of the US Military. The US Navy and the Seals use the same unique dogtags format for their ID tag sets and generally only have the ID tag information on every other line. The middle line has the US Social Security number immediately followed by 'USN' which is then followed by 1 space and an abbreviated blood type. As an example A POS is abbreviated to 'AP', O NEG is 'ON', and B would remain 'B'. The last line contains the religious preference. The Navy dog tags format is identical to the Seal ID tag format.


Order U.S. Military DogTags With The Correct Army, Air Force, Navy Seals, and Marines Format.
Your Choice of any 6 Piece Military ID Tag Set below for Only
$6.99