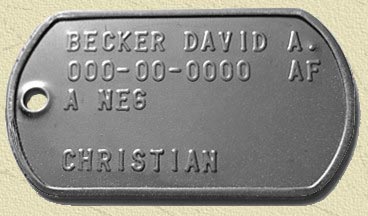 Air Force Dog Tags
Air Force Dog Tag Generator Will Make Real USAF ID Tags!
U.S. Air Force regulations require that one ID tag set be issued to each individual and that the individual understands when and how to wear their USAF dog tags. These dogtags are to be inspected annually to ensure that they are accurate and correct.

Black dog tag silencers are the standard issue but we do get numerous requests for sky blue silencers.




Order U.S. Military DogTags With The Correct Army, Air Force, Navy Seals, and Marines Format.
Your Choice of any 6 Piece Military ID Tag Set below for Only
$6.99
Satisfaction Guaranteed or Your Money Back!
Copyright© 1998* Tag'em LLC All Rights Reserved