Price, quality, fast delivery, and service, others can't match!
What are military dog tags made of?
Each of our 6-piece stainless steel MilSpec dogtag sets is constructed from:
(2) silicone rubber silencers in your choice of patterns and colors
(2) stainless steel ID tags with up to five lines of personalized text embossed for absolutely FREE
(1) 24" stainless steel necklace chain
(1) 4" stainless steel attachable beaded ball chain
We sell the same high quality custom stainless steel military ID tags and beaded necklace chains that are selling for more than twice the price at some other dogtag sites. We produce 7 days a week and ship 6 days a week by USPS First Class, USPS Priority Mail, and USPS Express Mail, and credit card orders are generally shipped the same day or next day.
Make Your Own Custom Dog ID Tags Here
Use our simple line by line military dogtag generator to create your own genuine Army, Navy, Air Force, and Marine ID tags with the correct current military dog id tags format. You can see the finished product before you order them to assure accuracy and appearance.


Military Dog Tags

You can use the most advanced Military DogTag Generator available on the Internet to design, customize, verify your text, and order your own genuine military id tags. Line by line instructions will guide you to make current issue regulation ID tags with the exact military text format and spacing used by soldiers in each branch of the US Armed Forces. Our Generator allows you to See Them Before you buy them.

Order your military dogtags here for:

Custom Dog ID Tags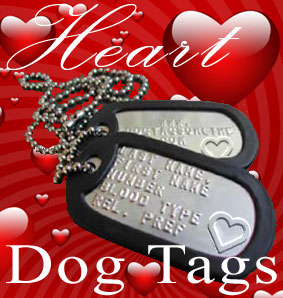 In addition to military tags and dogtags for men, women and children, we can also create custom dogtags for any occasion or any special need you have. We have over 100 text samples you can take and personalize and customize to make your dogtags your own.

We have 4 different styles of medic alert tags and over 20 examples of texts for ICE or In Case of Emergency Contact dogtags that you can customize to protect you and your family. We also offer customized dogtags for school and college sports teams, marching bands, and can also be used as sorority and fraternity pledge and member id tags.

Choose your dogtag style below to get started:
Wholesale Bulk Dog Tag Orders

A DogTag for Every Occasion!
One Stop Shopping! Our Bulk DogTag Generator(Fast Quote)is the only online system that allows you to get a quote for your order, enter your dogtag texts, make your payment, and have your dogtags in hand within 5 days.

School teams, sports teams, school ID
Sales and fitness boot camps
Hockey, basketball, and football equipment bag tags
Church groups and retreats, family reunions
Police and Fire Department identification and equipement tags
Mud Runs, Fun Runs, Marathons, and Endurance Races
We discount large wholesale bulk dogtag orders...the more you buy the less you pay per set.

If you will be buying wholesale or bulk dog tags, be sure to check out our Fast Quote tool while you are here at our website.


Key Tags and Bottle Openers
Keychains -
Shop here for your keychain online that is made from a real military dogtag attached to your choice of a key ring, key clip, or key chain. These personalized keychains will keep your keys organized and will help get your keys returned should they get lost.

These cool keychains, equipped with a key clip, can also be used as key tags to help organize your keys.

NOTE: Home phone numbers should not be used as they can be searched online to locate your house. Use a cell phone or business number that cannot be traced online to your address.

Sample text:


IF FOUND
PLEASE CALL:
248-740-7777 OR
248-953-6666
REWARD 4 RETURN


Keychain Bottle Opener -
Save your hands from twist offs by keeping this bottle opener handy on your keychain. This stainless steel bottle opener and keychain is made Military Tough and is so strong we can offer these with a "Lifetime Guarantee".
Engraved Pet ID Tags and Stainless Steel DogTags for Pets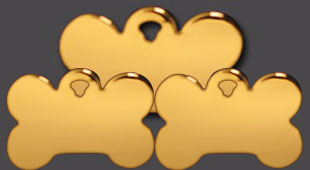 Pet Tags Online offers most advanced custom pet id tags generator on the Internet. You can see exactly what your dogtags for pets will look like before you buy them. This generator will automatically resize the engraved text on your dog and cat tags to fit on the id tag and automatically center your pet's name on one side and your name, address, and phone numbers on the other side. Most dogs and cats never leave the neighborhood so your neighbors won't need a microchip reader to return your lost cat or dog.

Anodized Pet ID Tags - Available in 5 shapes including dog bone, round, heart, hydrant, and octagon shaped engraved pet id tags. Most of these pet tag shapes are available in monster, large, and small sizes and available in 5 colors including blue, red, black, green, and purple. These are not cheap pet id tags…they are thicker than the typical pet id tag and are anodized on all surfaces, even the edges.

Gold Pet ID Tags - We also offer gold pet id tags for dogs and cats that are gold plated on all surfaces and are available in 5 shapes and most in 2 sizes. Your gold tag for dog or cat has 2-sided engraving with your pet's name and address along with your phones numbers to help get your lost pet returned. Add a little bling to your pampered dogs and cats.

Stainless Steel Pet Name Tags and Brass Pet ID Tags - Brass or Stainless steel pet id tags made from genuine military dogtags. These custom pet id tags are made Army Tough and have the text deeply embossed so that it will never wear off like engraved pet id tags. The brass and stainless steel id tags are available with a silicone rubber but they are not recommended as they are hard to keep on.


Our'No Hassle' Money Back Guarantee!
DogTagsOnline is a BBB-accredited business with an A+ rating that specializes in customized dogtag sets for only $6.99 for a complete 6-piece military set.  All our dogtag products come with our 'No Hassle' Money Back Guarantee because we like happy customers. Do not hesitate to get in touch with us if you would like more information about bulk orders, free shipping or if you have any other questions about our quality military tags. We look forward to serving you!


Copyright© 2003* Tag'em LLC All Rights Reserved