In Case of Emergency Contact Number Dog Tags
Get your In Case of Emergency Contact and ICE Emergency Contact dog tags at DogTagsOnline, with our fast delivery, our factory direct low prices, and our *No Hassle* money back guarantee.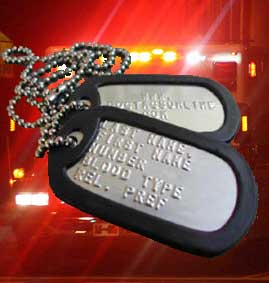 We are one of the oldest and largest in case of emergency contact number dog tag stores online with over 1,000,000 dog tags sold in our years on the Internet. These are the same military specification stainless steel dogtags that we currently supply daily to the US Military, but are available to everyone as In Case of Emergency dog tags. Whatever your emergency contact dog tag needs-We've got you covered!

These stainless steel army dog tags are rugged enough for the military and make ideal emergency contact information tags for runners, joggers, bicycling, cycling, swimmers and surfers, climbers, hunters and fisherman, seniors, and your high risk employees.

You can create your own set of real army dog tags to wear around your neck to carry your In Case of Emergency Contact phone numbers so they are easily available, and customize the second dogtag to use as an identification tag for your emergency contact information on your backpack, your shoe, your key fob, or anywhere your contact information in readily available. In the event of an accident your I.C.E. dog tags could speak for you and may save your life or your loved ones in an emergency situation.

Feel free to use and edit any of the ICE Emergency Contact and In Case of Emergency Contact dog tag text samples below to make your dog tags your own. So many choices!


In Case of Emergency Contact Dog Tags for Everyone:

With our years of experience in the business, we know how to make emergency contact information dog tags personalized for you.




Family I.C.E. Emergency Contact Dog Tags

We have the emergency contact dog tags you need to help identify and protect your family:




Emergency Contact ICE Dog Tags for the Outdoors:

Genuine military dog tags provide proven durability for the outdoors. The ultimate in an emergency contact outdoor accessory!




Emergency Contact ID for Road Warriors:

Emergency contact ID for the road. We can also equip your cycling team or motorcycle club with custom personalized emergency contact dog tags:




Emergency Contact Dog Tags with Special Instructions:

We can create emergency contact dog tags for you when you need special instructions included like Organ Donor or Call a Priest: